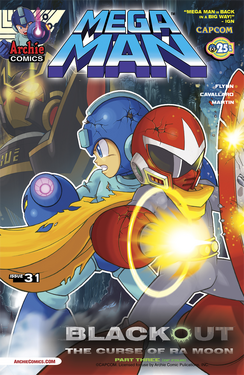 previous issue<----------------->next issue
"Curse of Ra Moon Part Three"
The fate of the earth hangs in the balance as Mega Man enters into the final, frantic battle with the sinister alien known as RA MOON! With Mega Man outgunned and outnumbered?will our hero survive? And if he can, how will he stand against the evil villain Ra Thor? You won't want to miss this epic issue which features the first alliance of Mega Man and Break Man! Brother fights alongside brother for the first time in the Mega Man comics, only in the penultimate chapter to the latest MEGA-EPIC! Featuring an all-new cover art from Mega Man art legend Patrick "SPAZ" Spaziante and a killer new variant cover from artist Brent McCarthy!