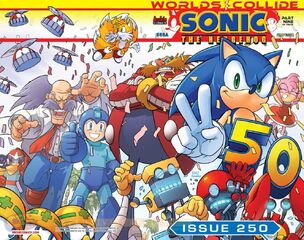 previous part  <-----> next part
This is the ninth of the 12 part crossover event: "Worlds Collide " and is also a mileston issue for the Archie Sonic the Hedgehog series.
Celebrate 250 issues of the longest-running video game based comic series, Sonic the Hedgehog, with "When Worlds Collide" Part Nine of Twelve! The final act of the crossover mega-event starts here as Sonic and Mega Man stand united against the Wily Egg—and backing them up are all their heroic friends. Standing against them are the Robot Masters—all of them! Let the battle begin! At a whopping 48 pages, this double-sized issue features a special, digitally remastered re-presentation of the first Sonic the Hedgehog issue! Also featuring a stunning new wrap-around cover by Patrick 'SPAZ' Spaziante. Plus, choose your favorite hero with the 'Team Sonic' and 'Team Mega Man' CHIBI variant covers! Continued in this month's Mega Man #27!
This Issue is the first in the Archie Sonic series to have a Wrap-around cover (which has the artwok carried on, on the back of it
Sonic's hand forms both a peace sign and the "two" in the "250"
this issues variant cover uses the same "chibi" style as the game: mega man powered up